After almost 15 years in my large stamp area, I have downsized my work area (and many supplies!) to create a [stamp] room with a view!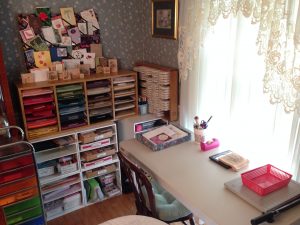 My previous stamp room was about half of our home's basement office.  I had a lot more storage above and below my work table.  But after struggling to find stamping motivation for well over five years, I began to suspect that what I really needed was a stamp area with natural light.  With three kids age 15 and under, none of our four bedrooms were going to be available anytime soon.  The only space left with a nearby window was our south facing dining room.
My plan for my new work area was to create a space that could easily be moved out of the way when we wanted to use the dining room for entertaining.  I selected only
my favorite stamps and supplies, and set up six shelf storage cubes in a corner.  Then I used a folding table in front of the window so that I can fold my work table and set it against the wall under the window when needed.  I added a rolling cart of drawers for extra storage that can be rolled into the corner when packing up.  I am able to convert my area in about 5 minutes from stamping work space to packed up and out of the way!
I gave away many extra stamps and supplies to my stamping friends (if it doesn't spark joy, set it free! ~ KonMari), but I wasn't able to give away all my extra stamps yet.  So I've stored extras in the basement such as off-season stamps, and sets I don't use often.
Since my work space is viewable from our front hallway, I reserved a storage shelf for a box that works as a drawer for holding works in progress out of sight between crafting sessions.
Another view of my stamping area shows the work table in front of the window, rolling cart of drawers off the left of the photo, white cube shelves to the left with paper storage and a display board above, ink pads stored in a former audio cassette shelf to the left of the window.  I have since added a small white table lamp (from Target) for my work table for extra light when needed.
It surprises me how many supplies I can fit in such a small area and that I can work very happily with a greatly reduced selection of paper, stamps and tools.  I am beginning to believe that having fewer supplies actually increases my creative inspiration as there are fewer choices and distractions.
I still have less time to stamp than I'd like, but when I do have time I look forward to creative time at my table by a window!