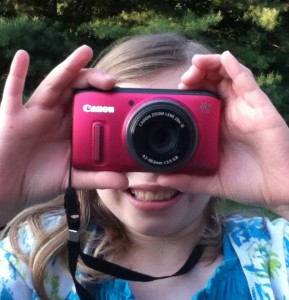 About a year ago, my family gave me the Canon SX260 Digital Camera as a gift.  I had actually researched and chosen it first since I'm rather particular about my electronics and I have a much stronger opinion on them than my husband.  This was my fourth digital camera if you don't count cell phone cameras, so I have a lot of experience with digital camera features and this is definitely my favorite camera so far.
I really like that this camera has a good speed for it's awesomely compact size and its price range.  I have three kids and I need a camera fast enough to keep up with them.  It also has a good 12.1MP resolution and even better, 20x optical zoom considering it's size.  I love that it has all this and it will fit in my purse!
My camera is the Red which looks to me like a dark pink or raspberry and I really like the fun color.  It is also available in black, grey and green.
As for negatives, I fully agree with the reviews that the flash pops up right under my fingers which is annoying.  However I like all the other features so much that I'm happy to accept this one fault.
When I started my research before buying this camera, I really wanted a viewfinder instead of using the LCD screen to frame photos.  It's difficult to find a camera with a viewfinder that is also compact, and in the price range that I could accept.  I'm very happy with my choice of a compact camera and have given up my desire for a viewfinder.
Finally, I really like to wear my camera on a neckstrap so that my hands are free and my camera is ready for use.  But compact cameras don't seem to come with neckstraps or even the ability to use a neckstrap with them.  I would really like to have a place to attach a neckstrap on both sides of cameras instead of just a wrist strap on one side (in case Canon happens to see this review).  My solution to this problem was to buy a neckstrap lanyard that attaches to the camera in place of the wrist strap.  I can use this as a neckstrap or wrap it around my wrist when I prefer.
I highly recommend this camera for it's speed, 20x optical zoom, compact size and overall great quality for its price!